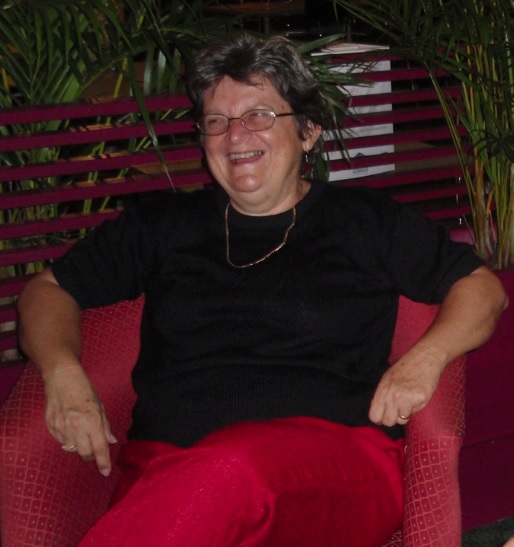 Jenny was much loved and admired for her enduring passion regarding the Darwin Chorale, for her energy and enthusiasm, her generosity, her great sense of humour and her resounding, infectious laughter.
A foundation Chorale member, Jenny was also an active committee member and for many years, Chorale Chair. She had great vision for the Chorale and was instrumental in forging the Chorale's links with community events such as Police Remembrance Day, Anzac Day, and Bombing of Darwin Commemorations. She was a major driving force behind the creation of Superstar Productions and subsequent stage performances, in which she loved to perform.
Jenny's vision included the Chorale's performance at Choralfest in Melbourne in 2000 and a significant artistic collaboration between the Chorale and the Mottael and Ballide choirs from Dili in East Timor (ET). The first exchange was in 2008 when we performed 'Ola Timor' together in Dili, and here in the Botanic Gardens for the Darwin Festival. Jenny then orchestrated follow-up visits in 2011 and 2012, when the ET choirs joined us for 'Northern Voices' – another Darwin Festival event; altogether a truly mammoth undertaking.
Despite ill health, Jenny always displayed great courage and determination – the wellbeing and further development of the Darwin Chorale was always uppermost in her mind. The Jenny Scott Award honours her memory.
Award Recipients
Year
Recipient
2022
Ann Stephens
2021
(no recipient)
2020
(no recipient)
2019
Kathryn Chandler
2018
(no recipient)
2017
Jennifer Rivett
2016
Fiona Wake
2015
Nora Lewis
2014
Annette Gore
2013
Martin Gore
2012
Darryel Binns
2011
Jenny Scott
The Jenny Scott Award.
The Jenny Scott Award may be awarded each year for outstanding service during the previous twelve months;
Criteria:
The service must be outstanding, it may be earned with a portfolio or committee role, or other voluntary support;
Service may include any of the following; promoting, sustaining, producing, facilitating, supporting and enhancing the Chorale;
It recognises effort, altruism, perseverance, devotion, and effectiveness;
It will not be given to the same person in consecutive years;
It commemorates the outstanding service that Jenny Scott gave voluntarily to Darwin Chorale during her many years as a member and leader.
Award procedure:
The award recipient may be determined each year by the Performance Manager of the Chorale;
The Performance Manager will seek discrete advice as she/he sees fit, and is the only member not eligible for the award. However, past performance managers are eligible;
The award may not necessarily be awarded each year;*
The Performance Manager will seek endorsement of the recipient from the Darwin Chorale Board.