Media Release: CHORALE HONOURS DECADES OF CREATIVE LEADERSHIP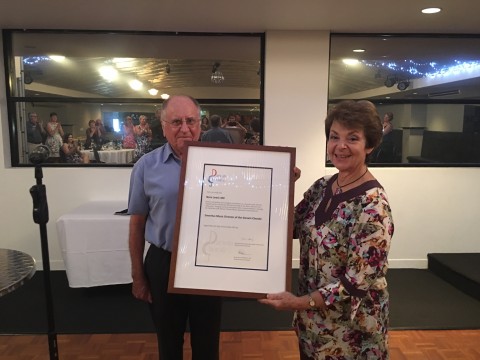 | | |
| --- | --- |
| Type of post: | Choir news item |
| Sub-type: | No sub-type |
| Posted By: | Annette Gore |
| Status: | Current |
| Date Posted: | Sun, 13 Nov 2016 |
DARWIN Chorale has honoured long term music director Nora Lewis AM with the position of Emeritus Music Director.
Nora's contribution to the direction, growth and professionalism of the Darwin Chorale for over three decades cannot be underestimated, Board Chair Kevin Davis AM said.
"From her arrival in Darwin in 1978, Nora has volunteered her extensive musical talent, abilities and leadership to the chorale fulfilling roles as singer, conductor, arranger, music director and composer.
"She has driven the pursuit of excellence in performance while firmly establishing the chorale as a community enterprise focussed on inclusiveness and the joy of singing and performing.
"Nora's extensive musical talent and expertise has seen the chorale perform cantatas, motets, opera, oratorios, hymns, musicals and 'pop', singing in English, Latin, German, Spanish, Italian, Tagalog, Indonesian and Tetun.
"For me, two of Nora's most memorable conducting achievements are Les Miserables in 2001 and Jesus Christ Superstar in 2015.
"Nora also visited Timor prior to the chorale performing there, including rehearsing and preparing the Timorese Choir.
"While Nora achieved all this and more in her 'free time', she was also busy as the Music Director of the Orlando Singers Chamber Choir (1980-1990), Music Director of the Darwin Concert Band (1981-1986), Principal of the Northern Territory Music School and Music Director of The Beat Festival (1994-2010) and Music Director of the Darwin Youth Choir (2009-2014).
"In 2010, Nora also received a well-deserved honour as a member of the Order of Australia.
"Now Nora receives the highest honour the Darwin Chorale can bestow; Emeritus Music Director," Mr Davis said.
Nora Lewis received the honour at the annual Jenny Scott Award dinner held on Saturday 12 November.