Description: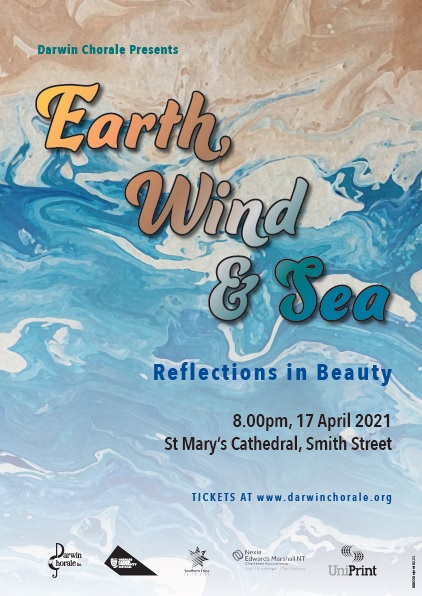 Our concert features short works that celebrate the wonder, beauty and power of the earth, wind and sea by writers from around the world.

Some links with the theme are tenuous: Autumn leaves and The Lark in the Clear Air are essentially love songs, and Opal Beds a work shanty, but reasons for their inclusion is clear.

The Covid-19 pandemic has inspired hundreds of tributes to Gaea Earth's response to the easement of rapacious human living, including my own Mother Earth She Knows.
Where Corals Lie
is a poem by

Richard Garnett

set to music by Sir Edward Elgar as the fourth song in his song-cycle Sea Pictures. Nova Scotian

Away from the Roll of the Sea

is influenced by Celtic folk styles, as is Touch the Sky having been made famous by Scottish singer Julie Fowlis in the soundtrack of 'Brave'. Oceans and Stars is a contemporary piece by New York composer Amy Bernon, while Silent Blue is by Australian composer James Madsen, and Arafura describes the sound of wind in the Casuarina Trees along Darwin's north coast by our own Cathy Applegate.

Breath of Earth
honours the wind as earth's breath, which inspires everything and animates everything. The human spirit and spirituality – so often associated with the wind – is celebrated in every culture.