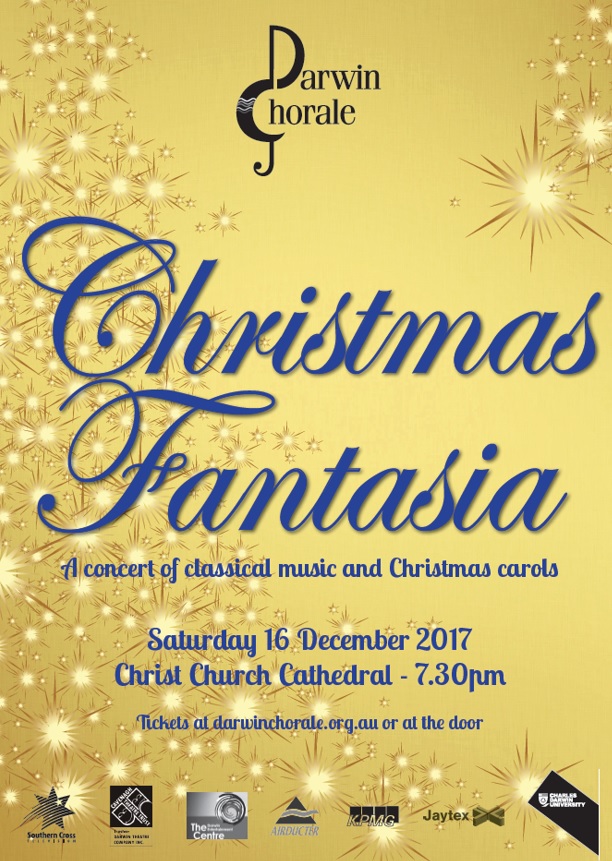 With 50 singers accompanied by a string orchestra, Michael Loughlin, Music Director, will again lead the Darwin Chorale in the ambient surroundings of Christ Church Cathedral.
The audience will particularly enjoy Ralph Vaughan Williams' Fantasia on Christmas Carols, which includes several well known carols threaded through the piece and features baritone solo, bassoon solo and full choir.
Other highlights include a trio from the Mozart opera Cosi Fan Tutte and Vivaldi's short choral work Beatus Vir (Blessed is the man).
A special feature of the concert will be a performance of Vivaldi's flute concerto The Goldfinch by superb local flautist Roslyn Perry, accompanied by the string orchestra. The concert will conclude with a rousing rendition of the much-loved favourite the Hallelujah Chorus from Handel's Messiah.

The audience will have an opportunity to sing some carols with the choir!
Details:
Christmas Fantasia
7.30pm
Saturday 16 December
Christ Church Cathedral, Smith Street, Darwin
Tickets $25 at darwinchorale.org.au or at the door